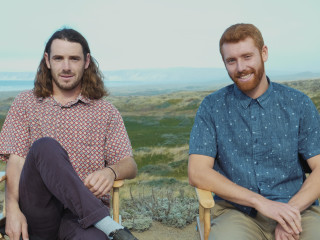 Maybe you have seen the Cigarette Surfboard on the NY Post, the UK Telegraph, Grind TV, or the hundreds of other media outlets. But now Ben Judkins & Taylor Lane are making an environmental surf documentary that features this award-winning Cigarette Surfboard to use it as a platform for sharing local & global solutions to ocean pollution.
The Cigarette Surfboard Platform
Currently they are raising support on Indigogo for the project stating that, "The film will be artistic & entertaining, while geared toward inspiring individuals, organizations & governments around the world to take more action. Internationally-acclaimed surfers will ride the board on every continent, and we will explore the link between surf culture & respect for the ocean."
Here is a quick recap of their post on Indiegogo and why you should consider also be part of the solution to ocean pollution. Want to see a change in our local area?
Contact us
to organize a local beach clean-up or shop one from one of these many great companies that are making a difference for our Ocean's in the future.
"The surf company Vissla and the non-profit Surfrider Foundation hold a contest each year that prompts individuals to create a functional surfcraft built from upcycled materials. Upcycled materials are discarded objects that are creatively transformed and repurposed into something new." This is the contest that inspired the Cigarette Surfboard. Vissla "constantly strives to minimize their environmental impact and protect the oceans". Whether it is upcycled coconut boardshorts, eco-friendly contests, or innovative production, Vissla is doing it's part.
With help from our supporters, we were able to pull more than 250,000 pounds of trash from the ocean in 2017! 4Oceans bracelets are made from 100% recycled materials. The beads are made from recycled glass bottles & the cord is made from recycled plastic water bottles. With each bracelet purchased, 4Oceans commits to removing one pound of trash from the ocean.
VF is responsible for companies like Reef and Vans. As a whole, they are reducing the environmental impact of our materials includes increasing the use of recycled materials.Ref has cut down material waste and began to use water-based adhesives instead of toxic glues, which not only makes it healthier for workers but also a healthier product out in the environment.
Beginning in 2018, visitors to 10 Vans® brand stores in California will be greeted by a kiosk containing a bin for used footwear they no longer want. Depositing their old shoes gives consumers reassurance that their discarded items will gain a second life. Participating consumers will also have an opportunity to provide feedback to the Vans® designers. The kiosks, designed to make product takeback easy and accessible, are a step in the transition from a linear to a circular system where materials are always reused, recycled or re-purposed. It is estimated that consumers dispose of roughly 70 pounds of clothing each year, accounting for 9 percent of the world's total non-recycled waste. Vans sees this as an opportunity to shift behavior and recapture valuable resources while also reducing potential environmental impacts.
---
---
Published Originally at Indigogo by Benjamin Judkins Fairfax, United States
THE PROBLEM
Just one year ago, we had no idea that cigarette filters were made from plastic; it takes these butts just as long to biodegrade as any other plastic — NEVER! Three quarters of smokers report habitually flicking their cigarettes. Aside from being an eyesore, 80% of discarded cigarette butts make their way into our water systems — streams, rivers, and gutters that lead directly to the ocean. There are 5.6 TRILLION cigarette butts littered each year around the world, which makes them the most littered item on Earth. These butts carry more than 7,000 chemicals, such as lead, arsenic, and formaldehyde, which leach into the environment, contaminating water, poisoning fish, and killing other animals. Just ONE cigarette butt can have adverse effects on marine life.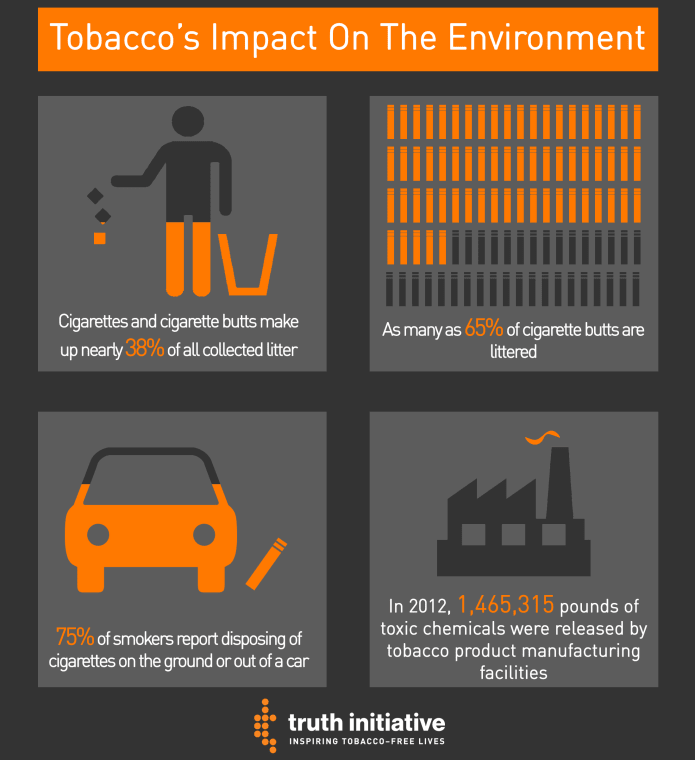 THE IDEA
The surf company Vissla and the non-profit Surfrider Foundation hold a contest each year that prompts individuals to create a functional surfcraft built from upcycled materials. Upcycled materials are discarded objects that are creatively transformed and repurposed into something new.
The question: What kind of upcycled trash could we incorporate that would make an unparalleled statement about littering, inextricably connected to coastal health, while capturing the hearts and minds of surfers, environmentalists, and everyday citizens?
The answer: Cigarette butts, the most littered item in the world, and the most collected trash item from beach cleanups internationally.
We would build a surfboard made from discarded cigarette butts, all of which were sourced from the beach. And we wouldn't stop at the contest. We decided we were going to make a documentary film, to connect the culture and core of surfing with environmental actions and solutions. So we filmed everything, from day one.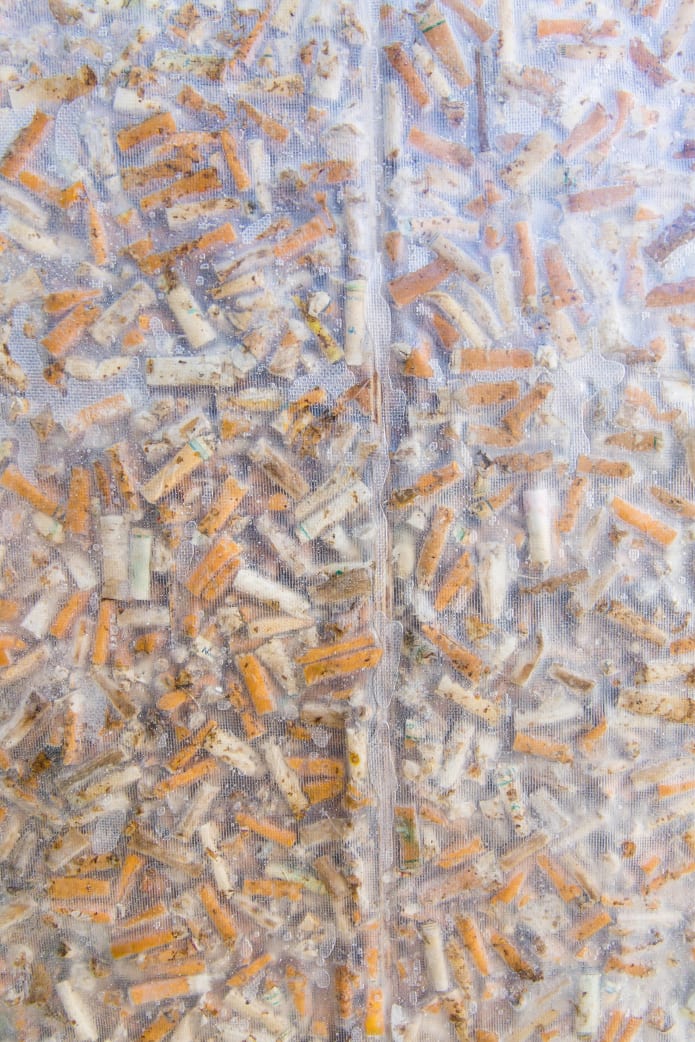 THE CREATOR
Taylor is an Industrial Designer by trade, a surfer by passion; he has shaped only a handful of surfboards, but is unquestionably talented with his hands. He has an enormous amount of ambition, dedication, and skill at creating just about anything. A surfboard made out of cigarette butts… doesn't make much sense. But it couldn't be impossible, could it?
For surfers, littered items on beaches have harmful effects on the place we love and yearn to keep clean. Discarded cigarette butts and other plastics are completely contrary to the surf culture we are trying to promote. The Cigarette Surfboard would function as a catalyst for conversations on these issues and, hopefully, as an impetus for increased awareness and a search for solutions.
It was clearly more than a creation for the contest; it could operate as a political, environmental, and social statement. We decided to go for it. But could we actually create a surfboard made from cigarette butts?
THE BUTTS
Taylor began his research on the plausibility of the creation. He talked with a few professional surfboard shapers in Santa Cruz, and created prototypes to figure out the details of production. He soon realized that it would indeed be possible to create a functional surfboard from cigarette butts.
In July 2017, we began attending beach clean-ups held by Surfrider Foundation and Save Our Shores. In just two weekends, we collected over 10,000 cigarette butts. We quickly noticed "flicking" patterns — the filters were often discarded on beach walkways, in parking lots, and around fire pits. Volunteers had plenty of ideas on how to address the issue: more garbage cans, more education programs, more enforcement and bigger fines for flicking butts, and the notion of biodegradable filters. We were inspired.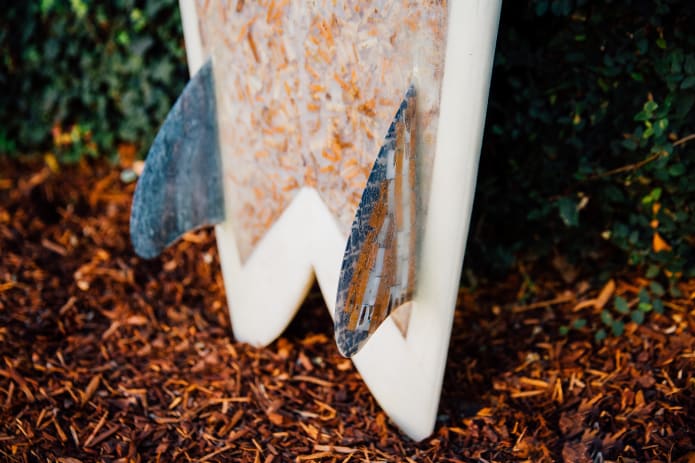 THE BOARD
The board was built (almost) entirely from upcycled materials, including cigarette butts and glue, used styrofoam coolers, EPS rail cut-offs, fiberglass scraps, and old fabrics. Entropy Resins (soybean based) glassed and sealed the surfboard, which is way less toxic than traditional resins. The Cigarette Surfboard, after months of labor and learning, came to fruition. Seventeen disgusting pounds of butts.
THE CONTEST
Shortly before the contest entry was due, Taylor attempted surfing it. The board immediately filled with water and could not be deemed "functional", which is a contest requirement. This setback was distressing, but Taylor could not be stopped. He fixed the surfboard over the next few weeks, and successfully surfed it. We made a couple of short videos to enter into the contest, and were selected as finalists. At the contest event in San Juan Capistrano on October 20th, the Cigarette Surfboard won first place!