Heading to the Roxy Event this Saturday, April 29th in Deerfield Beach, Florida? Here is everything you need to know:
1.What is the Roxy event anyway?
If you did not know, Roxy hosts a worldwide women's fitness that includes three legs: a 1 mile SUP race, a 5k beach run, and a beach yoga session. Thus year, Deerfield Beach is lucky enough to be picked as the US stop. Roxy has already stopped in Okinawa, Japan and two locations in France this year. They will wrap up their global event with stops in Korea and Spain. Check out past event footage of this incredible global phenomenon.
---
---
2. How to Sign Up for the #ROXYFitness event?
If you have not signed up already, we have a very limited amount of spots left for the Roxy 5k portion of the event. Roxy will also be going through current registrations and release cancellations and duplicates for SUP and Yoga, so check the registration form daily to see if spots are available. Go to the Deerfield Beach event page and click on the register button. Once you are on the form page, click "sign up" and you will be able to see how many spots are available for each leg.
---
---
3. How can I prepare?
Island Water Sports and Roxy have tutorials to help you get ready. Click below to check out our run, sup, and yoga series from #ROXYFitness
---
---
4. Where do I park?
We suggest parking at the Deerfield Beachplace parking garage on A1A just North of Hillsboro Blvd. This lot is about about a block from the beach and directly across from Island Water Sports. Limited parking is also available at the Main Beach Parking Lot located at 149 SE 21st Ave and the pier parking lot. The standard parking for is $4 per hour. The garage also offers discounted rates for 3 hour blocks or more. The garage and city meters accept credit cards and coins. Please be aware that paper currency is not accepted at meters. The parking lot opens at 6am.
---
---
5. Where do I check in?
Registration will be located at the Roxy Registration tent just North of the pier. Check in will open on the morning of April 29 starting at 7:00 am. Once you park at Deerfield Beach, you will be directed to the check in area.
Be sure to bring your Confirmation Email
You may bring a printed version or show a copy on your phone. Also have a photo ID to check-in & pack pick-up. Depending on the activity you registered for, your packet will consist of your race bib, yoga towel, hat, and other goodies for the day. Don't forget to wear your favorite workout outfit (hopefully it's Roxy!) on the day of! There will be many photo opportunities & competitions so you want to make sure you stand out from the crowd!
*You must be present to pick up your own pack with proof of confirmation and/or ID. You will not be able to check in for friends or family. 
**If you are under the age of 18, your parent or legal guardian must sign this Participant Liability Release
Registration/Check-in Tents open at 

7am
SUP Check-in from

7:00 am to 8:00 am

  *Please arrive on time if you are borrowing a SUP board for the event *
RUN Check-in from

7:00 am to 9:00 am

YOGA Check-in from

7:00 am to 10:30 am
---
---
6. Come Early and Visit Our Sponsors
WE HIGHLY ENCOURAGE YOU TO COME EARLY ON SATURDAY.  Come early, register, stretch, enjoy the beach, or just chill in our ROXY Lounge. DJ YSL will be spinning during the event and as a special addition, we have a line up of great sponsors with samples to giveaway including:
KIND® Snacks
ZICO® Coconut Water
CORE® Hydration Premium Bottled Water
Sun Bum
---
---
7. BAGS/PERSONAL ITEMS:
Please try and bring minimal items and/or you can keep personal items in your car between events or with a friend. We cannot be responsible for lost articles. And while we do have some sponsors on site to keep you energized and hydrated we encourage you to bring your own snacks as well depending on how many events you are participating in. Sorry, NO Dogs or Pets allowed on the beach.
---
---
8. Tentative Roxy Event Schedule
*SUBJECT TO CHANGE BY 15 MINUTES*
1K SUP Heat 1 Begins @

8:15 AM

1K SUP Heat 2 Begins @

8:25 AM

5K RUN Begins @

9:20 AM

AWARDS:  

9:10 AM

 for SUP / 

10:15 AM

 for 5K
YOGA @

10:30 AM – 11:30 AM
---
---
9. Event Outline
SEGMENT 1: 1K SUP – FROM SAND TO SEA.
Take to the water and Enjoy.
SUP Official Start Time:

8:15 am

(Heat 1)

8:25 am

(Heat 2)
1st leg of the event is the SUP* at Deerfield Beach. Boards will be set up with our team to assist if you have registered to borrow a Roxy board for the day of event.
SUP will be taking place in the open ocean waters. Please be aware of this environment. Please be prepared to bring your own rash guard or wetsuit to make your SUP experience as comfortable as possible. *Stand Up Paddle
Getting Your Board Ready for the Race
If you registered to bring your own board, please don't forget to bring it. You will not be able to SUP if you don't bring your own board. If you are using your own board and are registered in any of the other two events, after the SUP race please go straight the SUP Drop Off Zone to drop off your board. This way, you'll be able to relax, and your board will be waiting for you after the event.
We have limited board rentals available only to participants who requested a board at the time of registration. If you are borrowing a board for the event, it must be returned immediately after the SUP race.
There will be a board holding area. During the day you can leave your boards at your own risk. Volunteers will manage the dedicated SUP board holding area and will do everything to take good care of your board but cannot be responsible for any damage. If you are super concerned about your board's safety it would be best for you to secure it to your vehicle before or after the race. Competitors are to collect their boards prior to the race starting and line up on the beach in the designated area. They can then leave them in the board holding area. Boards must be picked-up by

1PM that day

!
We ask that all SUP participants line up according to their estimated finish time. Slower paddle boarders and runners in the back line and faster competitors in the front for safety and practical reasons.
 The finish line will be located just off the shoreline, so boards need to be carried through the finish line by participants so not to cause a beach jam!
SEGMENT 2: 5K RUN. Ready, Set, ROXY!
Connected to the ocean no matter where we run.
The second leg of the event is the 5K fun run.
The beautiful scenic view will make your run that much more enjoyable with the stretch of beach, along the coastline, and sand in your feet.
*Please note and take into consideration that the run course will take place entirely on the SAND. Please be cautious of this*
Water stations will be set-up along the 5K course but we strongly encourage you to bring some snacks and beverages of your own to keep you hydrated and energized throughout the day.
Spectators are welcome!
SEGMENT 3: RELAX WITH BEACH YOGA.
3rd & final leg will end with a 45 –60 minute cool down yoga session on the beach led by certified yoga ambassador Amanda Mestre.
---
---
10. Ways to Win at the Event:
AWARDS & RESULTS
Awards will be given out to the Top 3 finishers in the 1K SUP race (from Heat 1 and Heat 2) and the 5K Run. Only the first three finishers in the SUP and RUN races will have their times officially recorded. There will be no official timing for these races but the event will have a digital clock over the finish lines that will be visible to all.
WE WILL HAVE 2 SOCIAL MEDIA COMPETITIONS:
BEST SOCIAL MEDIA PIC USING #ROXYfitness – We will be following the hashtag #ROXYfitness on the day on all social sites, so take plenty of photos and don't forget to hashtag #ROXYfitness and tag @roxy. The best photo of the event will be announced the next day on Instagram and win a $100 ROXY GIFT CARD.
BEST GIRL SQUAD – On the day, our ROXY scouts will be on the hunt for the best GIRL SQUAD having the most fun, the ROXY WAY!  So grab your friends, your selfie stick and win your squad a $200 ROXY GIFT CARD.
---
---
11. After Party: Brunch at Oceans 234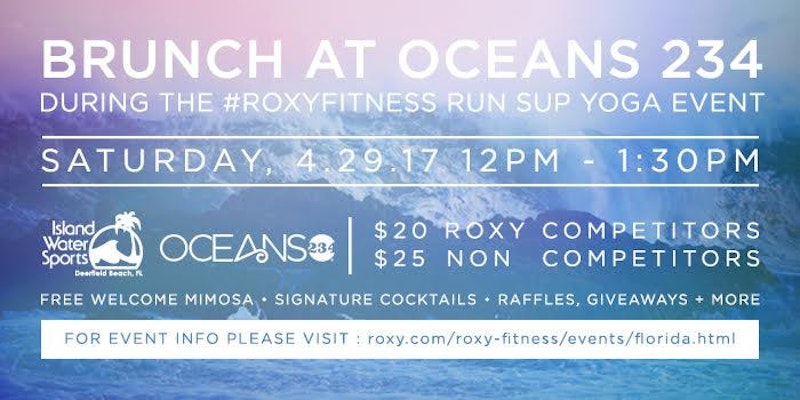 Come join us for a fabulous brunch directly following the Roxy run sup yoga event. You'll be welcomed with a complementary Mimosa and a delicious brunch buffet. Enjoy fruit salad, blueberry pancakes, white egg scramble and so much more. Coffee and tea included. Participants also have a chance to win tons of amazing raffles donated from our sponsors. Each participant will receive a raffle ticket upon entry and there will be additional tickets available for sale.
Prizes include:
– One week at Deerfield beach Surf Camp
– One day at surf camp
– gift basket from oceans 234 valued at $100
– Beach getaway Gift basket from Island Water Sports valued at $200
– Roxy gift basket valued at $250
DATE AND TIME
Sat, April 29, 2017
12:00 PM – 2:00 PM EDT
LOCATION
Oceans 234
234 North Ocean Drive
Deerfield Beach, FL 33441
---
---
12. Grab An Event Shirt Before They Sell Out
GET YOUR #ROXYFITNESS SOUVENIR TANK!
This year we will have a ROXY Pop up Store on the Beach selling a range of current fitness products, Deerfield Beach #ROXYfitness tanks, and more! Cash or Credit Card accepted.
GET YOUR EVENT TANK NOW PRIOR TO THE EVENT AT ISLAND WATER SPORTS!