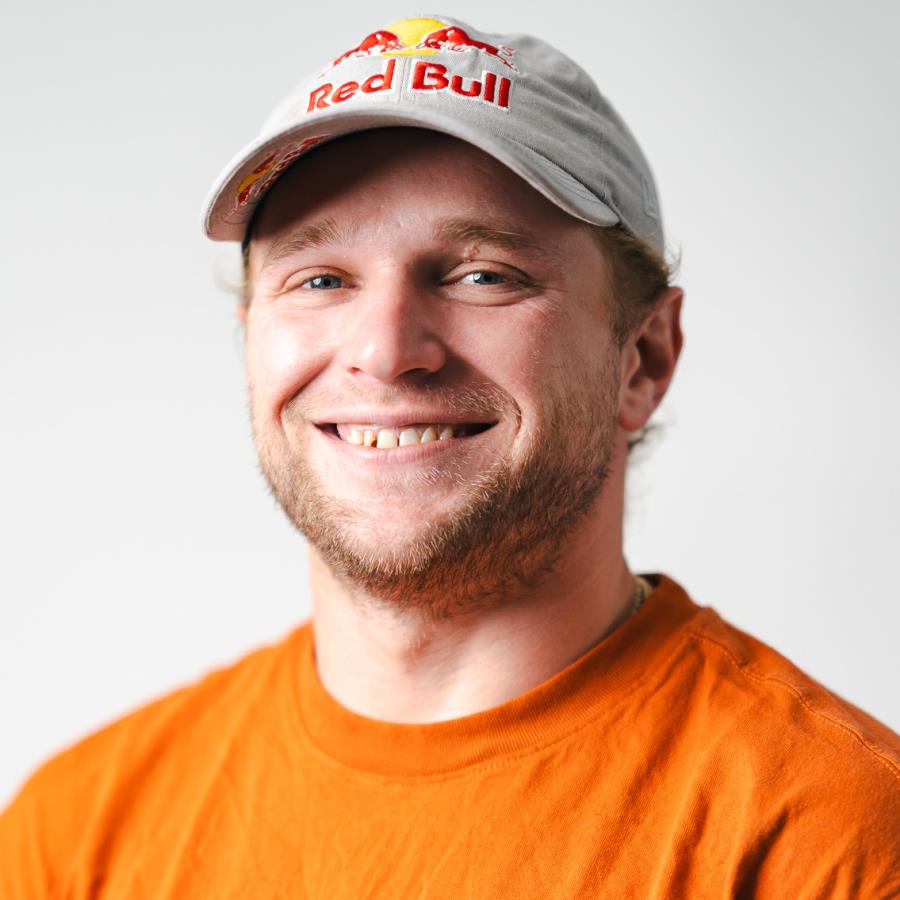 AGE:
20
STANCE:
Regular
SPONSORS:
Diamond Footwear, Deathwish, Bones Swiss, Stance, Island Water Sports, Spitfire Wheels, Thunder Trucks, Shake Junt, Wicked Audio
---
Jamie Foy:
Then and Now

Who Is Jamie?
If you have not heard of Jamie Foy yet, you might want to reconsider your claim as a die hard skate fan. If you have heard of him, then you are one of many who find his skating and style irresistible to watch.
From his careful execution of big handrail tricks (which draws many skateboarders to him) to his representation of all things husky, Jamie is known for "big tricks for a big dude". But while people follow Jamie's recent parts on The Skateboard Mag and Thrasher Mag, only his immediate friends know the core of who he is.
Humble in character, Jamie extends an appreciation for his home town, remarking on the laid back style the South Florida skate scene offers as well as the community which harbors a support unparalleled to that of his new home in California. If you ever get the chance to meet Jamie, you'll find an authentic approach towards skateboarding's culture which most successful skaters forget to implement as they transition from their amateur ranks. As a result of his personality, it is no wonder that success is imminent for the 20 year old skateboarder from Deerfield Beach, Florida.
---
Jamie Foy Interview by Pedro Delfino
Whats up, Jamie! What have you been up to?
JF: Not much, man. Just been resting. I got some heel bruise. I landed on my heel really hard. Buckled it.
Man that sucks. Was that from? The Thunder trip?
JF: Yeah Utah. There are some crazy rails out there. Brute!
Where in Utah?
JF: Salt Lake City…way up in the mountain…like a snowboard spot [laughs].
When did you first start skating?
JF: I was a one year old. I took my sisters Wal-Mart board cause she wasn't using it. [laughs]
Who are your sponsors?
JF:  Diamond Footwear, Deathwish Skateboards, Bones Swiss Bearings, Island Water Sports, Spitfire Wheels, Thunder Trucks, Shake Junt, Wicked Audio.
You're from Deerfield Beach, right? Where do you live now?
JF: Yeah. Long Beach, California.
How's Long Beach treating you?
JF: Its dope. There is a lot of skateboarding going on. You can go skate wherever. You can go to Cherry [skatepark] a block away. It's a perfect place for skaters.
Was it important for you to move out there?


JF: Oh yeah, for sure. Cause if you live outside of California, they can send you boxes and all the product they want…but your companies really want you to be out in California where you can skate with the team and they can get to know you. And, you got to be good at skating…but you also have got to be a cool person and just get along with everyone. When you move out there, they get to know you like 100%.
Is 99 cent frozen pizza still your go-to meal?
JF: [laughs] Yeah, I still hit those on the regs.
What are those, Tostino's? 
JF: Yup, Tostino's frozen pizza all day.
 Yeah, those are bomb. So Jamie, Did you instantly know that skateboarding was going to be something you wanted to do for the rest of your life?
JF: Uh, yeah kinda. I didn't know if it was going to work out for sure or anything, but it definitely has been something on the top of my list cause you need to do something [Phone connection poor] and you get to do what you like.
 Yeah, I feel that for sure. What kinds of projects or relationships do you have to commit to as an amateur skateboarder?
JF: You got to just commit yourself to filming and stuff cause sponsors want to put out stuff to show people. So you got to just go out filming, go on trips with people, commit to getting photos and stuff, hanging out with everyone. You also don't want to spread yourself out to thin.
Yeah, its important to be well rounded and know a lot of people in the industry. How was the skate scene growing up in South Florida?
Jamie Foy's ferocious frontside feeble (Watch it here)
JF: The skate scene in FL is awesome actually. I love it! All the homies skating and having fun, not really caring, going out skating around the neighborhood, driving down to Miami or up to West Palm, and skating all the local spots…It's just what you're used too.
How's it different in California?
JF: It's completely different cause you go to the spots that have been completely murked. So, you've got to start flipping in and going out to fakie. But with any spot in Florida…just maybe the basic stuff has been done there. So [in Florida] it's really fun and not as gnarly. Yeah, it's just completely different world in California.
Super gnarly out there! What are the realities of the skate industry compared to what you thought skateboarding was while growing up?
JF: The skate industry is really crazy. Growing up you don't think it's that crazy. Then reality hits and you've got to take care of business and go places. It's still fun, but you've got to take some time to stay focused.
 What are some of your favorite memories with IWS?
JF: Going on little trips around Florida doing all the sick events like Daytime Radness (that used to be called Midnight Madness) and the little city-run parades with ramps, skating on the floats, and having fun.
What projects should we be on the lookout for?
JF: I've just been filming with Beagle, working on Deathwish projects, and working with Ty Evans. Trying to put some stuff out in mags.
What's Ty Evans doing?
JF: He's making a new video. It's a little more basic than We Are Blood. It's going to be sick!
Any advice to the youngsters out there with skate dreams?
JF: Just keep trying. Keep your head up. Don't stop. Don't let anyone stop you. Just go for it. If you really want to do it just go for it.
For sure. Full commitment, yep. Thanks, Jamie. That was rad!
JF: Good stuff dawg,  I'll talk to you later.
---
Bones Reds Ceramic Bearings

Mob M-80 Griptape

$6.50

Bones Lasek USA Wheels – 56mm

$55.00

Thrasher Fish Mesh Snapback