We have already reached the mid-way mark in the alphabet of hurricanes for 2017. For many, especially if you surf, hurricanes bring both excitement and fear. But, so far, this has been a year like no other. First, Harvey's massive floods that changed the landscape of the Houston area. Then, Irma… a deadly storm that affected most of the Caribbean and the entire state of Florida. Next up was Jose, who threatens Delaware to Massachusetts. And, now we have Maria which threatens so many areas already struggling to get back on their feet from Irma. So with a solid week of surf ahead, expect anxiety to be swelling up as well around South Florida as we all watch Maria on the edge of our seats.
Hurricane Maria – Monday Morning Update
"Early forecast models, also known informally as the spaghetti tracks, tend to show Maria turning north near the eastern side of the Bahamas and avoiding Florida. But again, hurricane experts caution against putting too much trust in forecast models this early out, given the high chance they'll continue to change." -Sun-Sentinel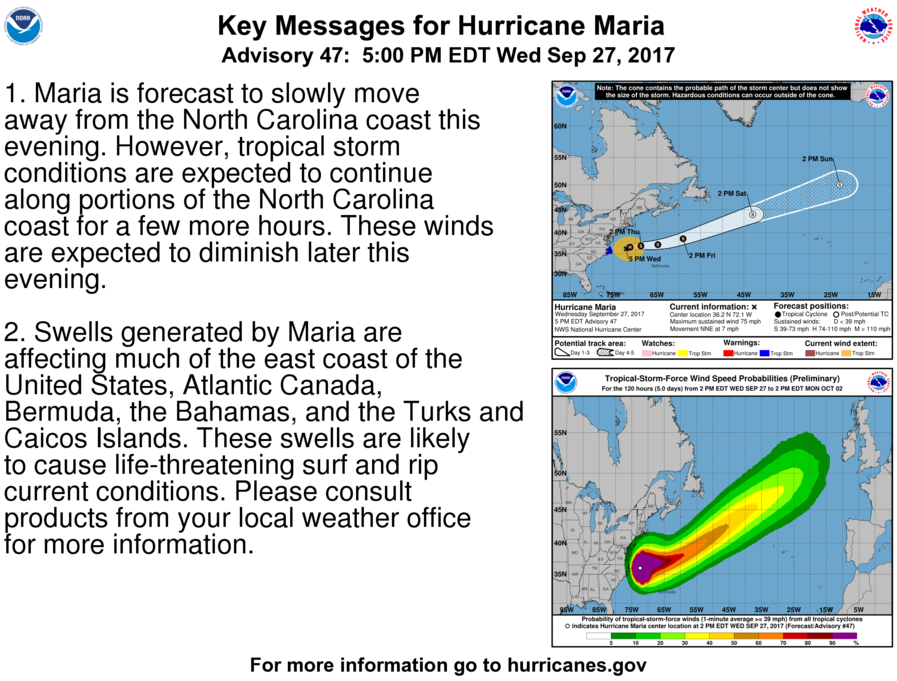 Solid Week of Surf Forecasted for Deerfield Beach
Today, Monday 9/18 – "2-3ft. Wind 13mph Moderate, Offshore. Primary Swell 3ft at 12s. Secondary Swell 3ft at 7s. Sunny Air 80°f Sea 85 °f – Best on a wind-chop SE with a low-incoming tide for above-average pier, sandbar peaks. NE swells don't line-up very well. Sometimes crowded, full amenities, pay to park." – Magic Seaweed
Tuesday 9/19 – Estimated surf 3-4′ Expect a little bigger waves today and building throughout Wednesday from hurricane Jose. Best sets will come in around 6pm. So, head over work on Tuesday to catch a few waves. Stop in Island Water Sports to pick up a fresh bar of wax before you head out. Hurricane Maria is expected to increase to a category 4 today so keep your eyes on the local forecast.
Wednesday 9/20 – With Hurricane Maria still predicted to be a category 4 storm, do not forget to stay tuned for updates. Best bet for waves today is early morning with swells expected to be about 4.5′. But you should be able to catch some surf throughout the day.
Thursday 9/21 – Waves will be slowly decreasing. Expect some 2-3′ sets throughout the day. Praying predictions that Hurricane Maria may decrease in intensity today are accurate.
Friday 9/22 – We may see some smaller 2-3′ sets coming in early morning but expect the rest of the day to be pretty flat.
Saturday 9/22 – Hurricane Maria is expected to be over the Bahamas today and we should have a better idea on it's potential impact to Florida. Waves should be increasing around noon today with 2-4′ sets expected.
Sunday 9/23 to Wednesday 9/27 – 3 to 6 foot waves are expected the remainder of the week. Keep your eyes on our surf cams and report at IslandWaterSports.com.
Share Your Thoughts
The saga of this year's season has been much less than a surfers paradise. Yes, the storms have brought so nice surf, but also some massive destruction. Once you have a family and become a home-owner, hurricane season like this become much less fun even if you are an avid surfer.
So, as we keep our eyes on the now Hurricane Maria, how are you feeling? We'd love to hear your thoughts.
Share your feelings on this next impending storm in the comments below. And, help us all out by sharing something you will definitely be getting to prepare as this storm heads our way.