Stranger Things, written by two brothers, Matt and Ross Duffer, has crushed records as the most popular on demand original series in history. In fact, Google notes that Stranger Things is the most searched term around the globe in the "arts and entertainment category".
This phenomenon did not begin because of creative marketing or any amount of hype. Instead, Stranger Things brought us amazing content with the incredible acting and that bit of nostalgia that we all crave. The buzz came purely by word of mouth from those who watched and loved the series. Even Stephen King sung the show's praises!
Whether you're young, old, or a millennial, you can't help but become completely obsessed with the characters, music, and the suspense of this show. With Stranger Things taking place in 1984 (the year of the millennial) we are left to speculate that the creators intentionally did this to represent the turn of a generation.  Add Netflix (which is often referred to as the Gangas Khan of the entertainment industry) and you have an instant cult classic. Intentional or not, in the process, they created the most loved show in America.
---
---
5 Reasons We are Freaking Out for Season 2
Here are the main reasons we cannot wait to find out what happens in season 2.
---
---
Eleven?
It is no doubt that Stranger things has its wealth of unforgettable characters, but Eleven is surely the stand out. Eleven, played by Millie Bobby Brown, is a boyish preteen girl with psychokinetic abilities. At the end of season one, she becomes a martyr as it appears she gives her life to save her friends. But her disappearance leaves us with so many questions about this already mysterious character. After all, who is Eleven really? Why was this girl held captive by a shady scientific lab? Why did the "bad guy" take her from her mother? And, how did she get her powers anyway?  Plus, don't you wonder what happened to the other 10 before her?
We all know the show will not be the same without her. So, we are pretty confident Eleven will be back. But, how long will the Duffer brothers make us wait?

---
It's Halloween
It's Friday the 13th and Halloween is right around the corner. It is the month we celebrate everything creepy. What better way to celebrate then by throwing a Halloween Stranger Things viewing party? From dressing up like your favorite character, to the decorations and the food and drinks, we have everything you need to get started.
Here are some of our favorite ways to trow the ultimate Stranger Things bash:
The perfect Invite:
Why watch the show alone? Invite your friends. For an epic invite, recreate this Will Byers "Missing Child" poster or this classic 80's style poster of the show. Simply switch out the text with your party info.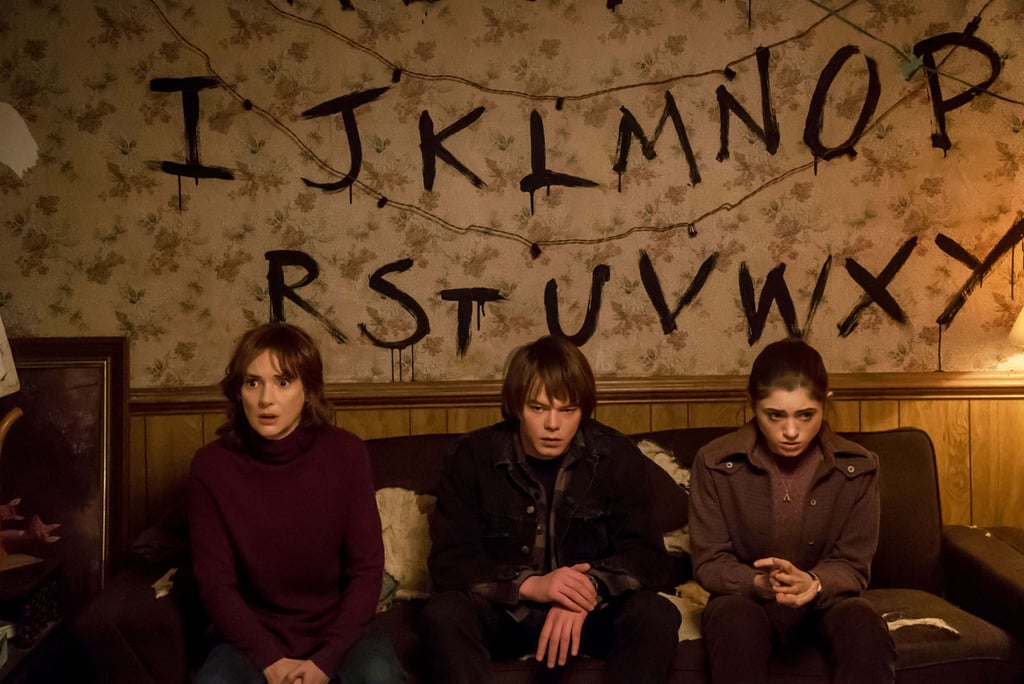 Set the scene:
Take out those Christmas lights a few weeks early, bring down that vintage record player and camera, and decorate with these incredible ideas. Explore the first floor of the infamous house in either virtual reality or 360-degree video for even more decoration ideas.
Find the perfect costume
Dress as your favorite character for the season premiere party with  DIY Stranger Things Halloween Costumes. Whether you dress up as Mike, Eleven or any of the other Stranger Things characters, you won't have to spend much to look the part. Thankfully, most of the characters' '80s-inspired wardrobes can be found by cruising to your local thrift shop.

Entertain with a Stranger Things Inspired Menu
Put together some treats inspired by the show like these amazing Stranger Things inspired cupcakes from Imgur that remind us of Eleven's waffles, Joyce's Christmas Lights or Barn's glasses and cigarettes. Or just grab some Eggos from your local supermarket.
WANT MORE PARTY  IDEAS? Click here.
---
Binge Worthy
If you have yet to see season one, what are you waiting for? From the incredible amounts of tweets, the press, and the social buzz… If you have not at least thought about getting a Netflix account, you may just be living under a rock. With just 8 one-hour-long episodes, you can easily take a weekend off to watch this binge worthy series. And, if Season 2 is anything like Season 1, get ready to grab some microwave popcorn (or even some Eggos), and Netflix and truly chill for the entire series.
So what is Stranger Things about?

To keep it short: A single mother's youngest son vanishes into thin air. In desperation her search begins. She has little little clues to go on and the clock is ticking. The missing boy's three friends decide to help hunt for him. They ignore the police chief's warning to stay out of the way. All throughout, things seem, well, "strange" in this little town. A young girl mysteriously shows up. and the boy's three friends take her in. She is hungry, alone, and possesses powerful abilities. It seems as if the local energy plant has been working on some weird science instead of keeping the lights on. Who knows. But we get the idea that maybe they woke something up or even knocked a hole in another dimension. Sound strange? It is, but we promise you won't stop watching.
---
The Music
With music so good that it snagged an Emmy nomination for Season one, we are already looking forward to what the Duffer brothers and music supervisor Nora Felder have put together this time. In the show, Jonathan tells Will the Clash is going to "totally change your life." (which it does in unsuspecting ways). This song became somewhat of an anthem throughout Season 1. But truly each song took us on a journey as it intensified the emotions we were already feeling.
Nora Felder said that getting the license to use these songs were no easy feat. Felder offered each band a series of brief descriptions describing why the song was meaningful to the story, She snagged iconic '80s songs including "Should I Stay or Should I go" by the Clash "Go Nowhere" by Reagan Youth, "Deck the Halls" by Chicks with Hits, and "Raise a Little Hell" by Trooper. Click here to listen to the entire soundtrack
Last season, tunes from the John Carpenter soundtrack did wonders to send us right back to the early 80s. And, you can even see the influence of the era in the theme song. Survive (an Austin, TX based experimental band) intentionally mimicked Carpenter's soundtracks, with pulsing synths that smoothly transition that 80s feel. Hearing Michael Jackson's Thriller in the Season 2 trailer has us in great anticipation of what's to come.
---
All The Feels
From government conspiracies to missing children, the show brings us back to the 80s. It was an era where the Goonies, Tales of the Crypt, Stand by Me and X-Files were the classics of those craving mystery, the bizarre, and an element of creepiness and horror. To make us want to go back to these simpler days of 1984, the show references pretty much every major horror/science-fi film and TV show of the time with a soundtrack to match. (Really…See the references here)
Then there are the characters who we love. The friendship of Dustin, Mike, Lucas, Will and Eleven remind us of hanging with the neighborhood gang. From the endless after school adventures to having each other's back no matter what. It's these close-knit bonds that we long for in today's world of tech and busyness. Long gone are the days of exploring the local hood until dark with friends who you would do anything for.
Nancy, Jonathon, Steve, and Barb all bring us back to the days of high school. From the cool crowd to the girl on the fence to the awkward friends that really didn't get enough credit. We get them and feel every emotion. Then there's Joyce, Will's mom, played by none other than Winona Ryder (what!). We love her and can do nothing but empathize with all her craziness. Finally, add the mystery of Eleven… It's the perfect combination.
---
---
Stranger Things has already been renewed for a third season, and the Duffer brothers anticipate the show taking four seasons to wrap up its story. So, do not expect this next series to explain it all. Will they explain the Upside Down and why so many people care about it? We are not sure but we expect plenty of strange things to menace the people in the small town of Hawkins and we can't wait!
Watch the FINAL trailer for the new season of Stranger Things
The team behind the Stranger Things Inspired Island Water Sports Shirt & Shoot:
[table id=1 /]
[table id=2 /]
GET THE SHIRT